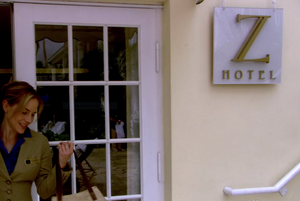 Z Hotel was a location in Showtime's series DEXTER.
Rita Bennett worked at the front desk of this hotel.
Description
The hotel was a large, pale gold and white resort set on the water.
Season One
Rita Bennett noticed that her co-worker, Yelina, was very upset about something, and tried to comfort her. Yelina said that she was worried about her fiance. He had left Cuba, trying to immigrate illegally with the help of a coyote, but had never arrived in Miami. Rita asked Dexter to look into the problem, using his police connections. The fiance's body later washed up on the beach. Dexter tracked down the coyote, and killed both him and his wife.
While Rita was at work, two officers from the Miami-Dade Sheriff's Department appeared at the front desk. They informed Rita that Paul Bennett had been released from Baptist Memorial Hospital and was filing an assault charge against her.
Season Three
Rita, feeling the effects of morning sickness, was in the restroom at work. While there, she had a tense conversation with Astor over the phone. When Rita returned to the front desk, she lashed out at the rude wife of a newlywed couple staying at the hotel. This resulted in Rita being fired on the spot from her job.
Related Pages
Gallery
Community content is available under
CC-BY-SA
unless otherwise noted.