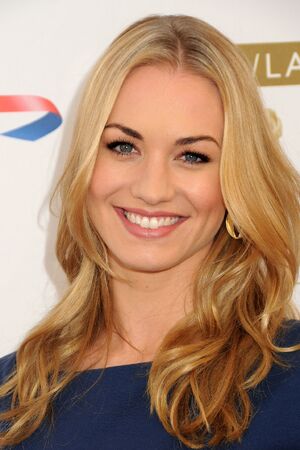 Yvonne Jaqueline Strzechowski also known professionally as Yvonne Strahovski (born 30 July 1982) is an Australian actress.
She played Hannah McKay, a flower gardener and a serial killer, in the Showtime series DEXTER.
For her role, she won the 2012 Saturn Award for Best Guest Starring Role on Television.
Appearances
Career
Strahovski started acting during her school years when she played Viola in the school production of Twelfth Night. She appeared in film and television roles in Australia, including in the satirical show Double the Fist and as Freya Lewis in the Australian drama series headLand. She has also appeared in Channel Nine's Sea Patrol. She is well-known as Sarah Walker in the NBC television series Chuck. Strahovski voices Aya Brea in the English version of the Parasite Eve spinoff, The 3rd Birthday, which was released in 2011 for the PlayStation Portable. She also appeared in a CollegeHumor sketch in 2011. Strahovski appeared in the 2011 film Killer Elite and in the 2012 comedy The Guilt Trip. with Colin Hanks. In 2011, Strahovski was cast as the female lead in I, Frankenstein (2014). In 2012, she was featured in a new SoBe Life commercial. In 2014, Strahovski joined Fox's TV series 24: Live Another Day cast as Kate Morgan, CIA agent. Later that year, she was cast as Rene Carpenter in the ABC limited series The Astronaut Wives Club. In 2016, she co-starred in the film noir Manhattan Night. She was featured in Maxim Hot 100 from 2009 to 2013. Since 2017, she has starred as Serena Joy Waterford in the acclaimed Hulu drama series The Handmaid's Tale. For her performance, Strahovski earned a Primetime Emmy Award nomination for Outstanding Supporting Actress in a Drama Series in 2018.
Personal Life
Strahovski was born in Werrington Downs, Sydney, New South Wales, the daughter of Piotr Strzechowski and Bożena; her parents emigrated from Tomaszów Mazowiecki, Poland. Her father is an electronic engineer, and her mother is a lab technician. Strahovski began acting lessons at age twelve and spent her high school years attending Santa Sabina College, Strathfield. She graduated from University of Western Sydney's Theatre Nepean in 2003 and co-founded a small theater company. Strahovski is a supporter of PETA and appeared in an ad for their "Adopt, Don't Buy" campaign. At the 2017 Emmy Awards, Strahovski revealed that she was married to Tim Loden, her partner of six years. Their first child, a boy named William, was born in October 2018.
Gallery