Yelina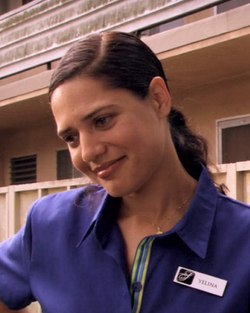 Yelina is a character in Season One on the Showtime series DEXTER.
She was a maid at the Z Hotel where Rita Bennett worked at the front desk. Rita considered her a friend.
Summary
Rita stole her obnoxious neighbor's neglected dog and gave it to Yelina's nieces so that he would have a loving home.
Yelina was engaged to a Cuban man named Ernesto Rodriguez who was attempting to enter the U.S. illegally. Unfortunately, Ernesto went missing and Rita asked Dexter to help find out what happened to him. Dexter met up with Officer Gerard to research the issue of human smuggling. Soon, Ernesto's corpse washed up on shore and a heartbroken Yelina identified her late fiance's body.
Dexter learned that the person responsible for smuggling Ernesto and some other immigrants was Jorge Castillo. If they couldn't pay a release fee, Jorge murdered them and dumped their bodies at sea, after which their remains often washed ashore. Jorge met his demise when Dexter killed both him and his wife in their Auto Salvage Yard.
Related Pages
Gallery
Community content is available under
CC-BY-SA
unless otherwise noted.