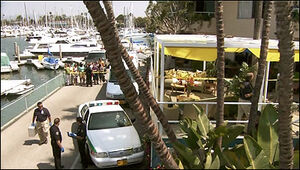 The Vizcaya Reef Hotel is a location in Season Four of the Showtime series DEXTER.
It's where the Vacation Murderers robbed and killed one of their victims.
Location
Near the water
Miami, FL
Season Four
The Miami Metro Homicide team is called to a crime scene at a waterside hotel. They find a man dead on the floor of his hotel room, shot in the back of the head with his wallet missing. Dexter Morgan does not want to be there because he needs to search for the remains of Benito Gomez. Due to his car accident, Dexter doesn't remember where he left the body parts.
Christine Hill, the reporter that Detective Joey Quinn is sleeping with, pushes her way past the police tape. She attempts to get information from Quinn which draws the attention of Lt. Maria LaGuerta. Later, LaGuerta warns Quinn to be careful with their "pillow talk."
Inside the hotel room, Quinn figures out the combination for the victim's safe and finds a large amount of cash inside. He shoves some of the money into his pocket before he catches Dexter watching him. When Dexter turns away, he notices blood on a cactus needle just outside the room. He quickly takes a sample to test.
From the blood analysis, Dexter discovers that the killer has a STD, finding a connection to Johnny Rose.
Sgt. Angel Batista and Lt. LaGuerta go to Nikki Wald's apartment in their search for Johnny Rose. While there, they are shot at by Johnny and Nikki who then escape.
Quinn, having made several failed attempts to befriend Dexter, questions Dexter about his cold attitude. Dexter makes it clear that he's not interested in being Quinn's friend. When Dexter assures Quinn that he doesn't care if he's a dirty cop, the remark angers Quinn and he retorts that Dexter cannot understand his viewpoint. For a while, Quinn worries that Dexter will turn him in, but he never does.
Related Pages
Gallery