Valerie Castillo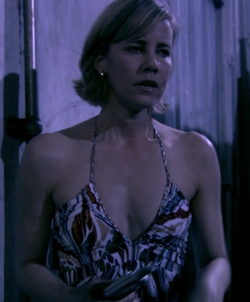 Character Profile
Portrayed By
Valerie Dillman
Season(s)
Season One
First Appearance
Love American Style
Last Appearance
Return to Sender (Corpse)
Appears in
Two Episodes
Character
Full Name
Valerie Castillo



Status
Deceased
Manner of Death
Stabbed in the chest by Dexter Morgan
Characteristics
Age
35 (at death)
Gender
Female
Eyes
Green
Hair
Blonde
Personal Status
Marital Status
Married
Spouse
Jorge Castillo (deceased)
Professional Status
Profession
Presumably none other than helping her husband
Killer Profile
"No Known Alias"
Inactive
Number of Victims
At least 4
Modus Operandi
Tools/Weapons
Fish holding tank on their boat
Killing Method
Drowning
Method of Disposal
Thrown into the ocean
Cause
Unknown, although assumed to be in it for the money. It is also unknown what exactly she does to their victims, aside from locking them up. Killing them in a fish holding tank is done by her husband and whether she helps him do it is never stated.
Valerie Castillo
is a character in
DEXTER
. She together with her husband
Jorge
transported illegal immigrants from Cuba. If an immigrant couldn't pay them, he or she was locked up in Jorge's auto yard, taken out on Jorge's boat and drowned.
Plot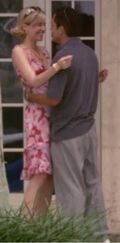 Valerie was first seen at Jorge's house (when Dexter was stalking him), but Dexter considered that she didn't know about her husband's activities. Later, when Dexter goes to Jorge's auto yard and sedates him, Valerie comes looking for him and Dexter realizes that she is also involved in killing innocent Cuban immigrants and decides to kill her.
He takes Valerie to the trailer, where he was holding her husband, wrapped her body to a table and put cotton in her mouth. When Dexter asks them how they make their relationship work when they're killers, just like him. Valerie and Jorge tell him that they had the same dream. After that, Dexter puts cotton in their mouths and kills them. Dexter doesn't dismember her body and simply throws it in the ocean.
Return to Sender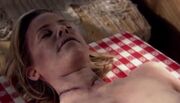 The Ice Truck Killer, who has been stalking Dexter, dives after her body and places it back in the trailer, where Dexter had killed her. Next day in the morning, Dexter and his co-workers find her body, which leads to Debra coming up with theory about a copycat killer and Masuka finds out that she was drugged by M99, which almost leads Dexter to be caught.
Dexter's first nightmare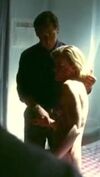 Dexter is worried that her corpse will lead him to being caught and he still can't find any way to get out of it. That night, his nervousness leads him to have a nightmare for the first time. In his nightmare, her corpse is seen on the table in the center of his kill room, alongside with Harry. Later, her corpse comes alive and stands up. She and Harry both walk out of the kill room. Valerie is then replaced with Dexter himself, with Debra being the killer. She proceeds to accuse Dexter of not telling her what he is, and then takes his blood sample. Then, a mysterious person enters the room and shows Dexter the head of a doll (which reflects on Dexter's current situation with his brother). Debra then readies a cleaver and beheads Dexter, causing him to awaken.
Case Closed
Later the Ice Truck Killer (his brother) breaks into Dexter's apartment and draws a smiley face on Valerie's slide. When Dexter goes through some of his blood slides he notices this and understands that the Ice Truck Killer is actually testing him. Dexter then falsifies evidence, which leads investigators to believe that Valerie was actually killed by her husband Jorge.
Victims
Killing them is done by her husband but whether she helps him or not is never stated.
Trivia
This murder, despite not being that important in the first season or in Dexter's plot, was the first time that one of Dexter bodies was found by Miami Metro and the first time that Dexter was in danger of getting caught.
Valerie and the actress that played her share the same name.
Gallery