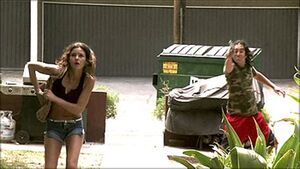 The Vacation Murderers (originally Vacation Robbers) are a killing team in Season Four of the Showtime series DEXTER.
They are a boyfriend and girlfriend who are responsible for a string of robberies and murders of tourists in Miami.
The name derives from their method of selecting victims who are on vacation and have cash to burn. Originally, they were only robbers, until one of their victims surprised them and they killed him.
Background
Johnny and Nikki first met in high school and began a shoplifting crime spree. They were both eventually caught, and Nikki later testified against Johnny for a reduced sentence. Johnny and Nikki rekindled their romance and made a plan to rob people so they could buy a boat and sail off to Bermuda. At first, they only robbed their victims but later upgraded to murdering them after an incident with one of their victims.
Killers
Victims
Appearances
Related Pages