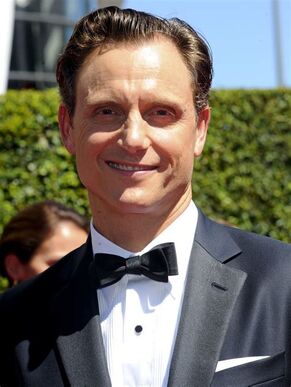 Tony Goldwyn (born 20 May 1960) is an actor, director, and producer.
He played Dr. Emmett Meridian, a manipulative therapist, on Showtime's DEXTER.
Appearances
Director
Career
Goldwyn began acting in guest star roles in the mid-1980s. These include his portrayals of Carl Bruner in Ghost and Colonel Bagley in The Last Samurai. He played astronaut Neil Armstrong In From the Earth to the Moon. He starred in Scandal, as Fitzgerald Grant III, President of the United States.
As a director, Goldwyn has directed four feature films, A Walk on the Moon, Someone Like You, The Last Kiss, and Conviction. He has also directed many episodes of television series such as Without a Trace, The L Word, Dexter, Law & Order: Criminal Intent, Grey's Anatomy, and Scandal. In 2014, he directed the pilot episode of The Divide, of which he also served as an executive producer.
His film credits include the Outlaw Prophet (2013) as Warren Jeffs, Divergent (2014) as Andrew Prior, Caleb and Beatrice's father, and the horror thriller film The Belko Experiment (2017).
As a stage actor, Goldwyn has appeared Spike Heels, The Water's Edge. and the musical Promises, Promises.
He voiced the title character of the Disney animated film Tarzan.
Personal Life
Goldwyn was born in Los Angeles, California, the son of actress Jennifer Howard and film producer Samuel Goldwyn Jr. Goldwyn's paternal grandparents were mogul Samuel Goldwyn, a Polish Jewish immigrant, from Warsaw, and actress Frances Howard, who was originally from Nebraska. His maternal grandparents were playwright Sidney Howard and actress Clare Eames. One of his maternal great-great-grandfathers was Maryland Governor and Senator William Thomas Hamilton.
Goldwyn attended Hamilton College in Clinton, New York, Brandeis University in Waltham, Massachusetts (where he received his Bachelor of Fine Arts degree), and the London Academy of Music and Dramatic Art.
Goldwyn has been married to production designer Jane Michelle Musky since 1987. They have two daughters. Additionally, Goldwyn's brother John is a former executive of Paramount Pictures and the executive producer of Dexter. His brother Peter is also a film producer and the current President of Samuel Goldwyn Films.
Trivia
Gallery