Timothy Brand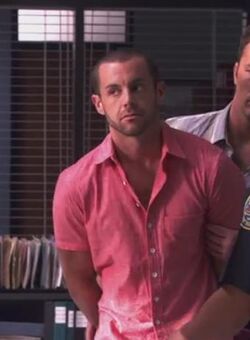 Character Profile
Portrayed By
John Griffin
Season(s)
Season Four
First Appearance
Slack Tide
Last Appearance
Slack Tide
Appears in
One Episode
Character
Full Name
Timothy Brand
Status
Incarcerated
Characteristics
Age
30s
Gender
Male
Eyes
Green
Hair
Black
Personal Status
Marital Status
Single
Immediate Relatives
Unknown
Professional Status
Profession
Assistant to Jonathan Farrow
Killer Profile
"No Known Moniker"
'''Inactive'''
Number of Victims
Four
Modus Operandi
Tools/Weapons
Unknown
Killing Method
He chose South and Central American women that immigrated to the U.S. After Farrow finished taking pictures of them, they would leave. However, Timothy called them back to the studio, presumably under the ruse that Farrow had more work for them. He then bashed them over the head and killed them.
Method of Disposal
Fed victims to alligators
Cause
Unknown
Timothy Brand is a character in Season Four of the Showtime series DEXTER.
He is a photographer's assistant and a serial killer. He is first seen while accompanying Jonathan Farrow to the police station as he books photo shoots on his phone.
Summary
Brand's final victim was Estrella Carazo. Her arm was found after a man killed and cut open an alligator. Evidence showed that she was murdered before her body was discarded in the Everglades.
Initially, the murder was believed by many, including Dexter, to have been committed by Brand's boss, Jonathan Farrow, a fashion and S&M photographer. It was only after Dexter killed Farrow that Brand was arrested by Sergeant Angel Batista on solid surveillance and DNA evidence. This disturbed Dexter because he had broken The Code and killed an innocent man.
Because Farrow suddenly disappeared, it was suspected (except by Dexter), that Brand had killed Farrow. After his arrest, Brand was not seen again.
Note
During discussion of Estrella's case, Dexter says the M.E. estimates that her arm was ingested less than 72 hours ago, and her time of death was less than 24 hours prior to that.
Victims
Related Pages
Community content is available under
CC-BY-SA
unless otherwise noted.