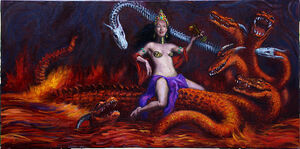 The Whore of Babylon is a crime scene in Season Six of Showtime's series DEXTER.
It is the sixth of the Doomsday Tableaus. At the scene, Lisa Marshall is displayed among alligator heads with unknown writing carved into her forehead, symbolizing the Whore of Babylon, a female figure mentioned in the Book of Revelation.
Crimes
Method
During a blackout, Travis Marshall killed his sister, Lisa Marshall. (It's unknown how he killed her, but possibly with the Sword of John the Revelator, since he used that method before.) He then set up the tableau outside of the school where Lisa worked.
Motive
This tableau was another step in a process that, when completed, was meant to trigger the End of Days. The female sacrifice was viewed as a whore and unrepentant sinner.
Clues and Evidence
Victims
Suspects
Detectives, Forensics, Agents on Scene
Other officials involved in the connected cases:
Season Six
Travis captures Holly Benson and keeps her captive in an abandoned church.
So that Holly will be dressed appropriately as a whore, Travis buys tawdry garments at a flea market for. As The is about to "mark the whore" with a hot iron, Travis second-guesses his actions and sets Holly free, still blindfolded.
While in the hospital, Holly is interviewed by the police. She describes being chained up and forced to drink blood, while being called "The Whore." Det. Mike Anderson informs the team of Revelation 17.
Debra Morgan questions Travis's sister, Lisa Marshall. The next day, Lisa is found dead outside the school by a janitor posed as The Whore of Babylon.
Related Pages
Gallery