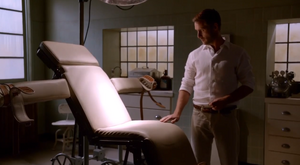 The Treatment Room was a location in Season Eight of Showtime's series DEXTER.
This room, inside an abandoned hospital, was used as a place for The Brain Surgeon to kill his victims.
Address
Rendall Psychiatric Hospital
1215 W. Clarendon Ave.
Miami, FL 33049
Appearances
Summary
The Brain Surgeon (Oliver Saxon) killed at least five of his victims in this room..
The room was designed in the same way as another treatment room far away in England. It was in the mental hospital where Saxon (then known as Daniel Vogel) had been committed when he was fourteen years old, after he killed his brother. While there, Saxon was force-fed his medicines if he refused to take them (which he stated was the highlight of his day). When Saxon was seventeen, he set the hospital wing that he was living in on fire, and faked his death.
As an adult, Saxon lived in several countries before settling in Miami, where his mother Dr. Evelyn Vogel had made her home. He then left parts of a few of his victims' brains on her doorstop, causing her to ask for Dexter Morgan's help in discovering the identity of the killer.
Notes
Victims Killed in Room
Victims Killed Elsewhere
Gallery
Community content is available under
CC-BY-SA
unless otherwise noted.