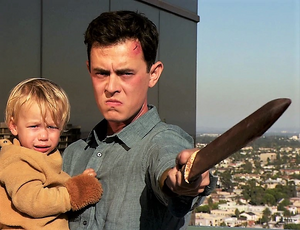 The Lamb is the last tableau in Travis Marshall's series of crime scenes in Season Six of Showtime's series DEXTER.
Although it is a tableau, The Lamb is considered a minor one. It is one of the two tableaus not to have a portrait painted to represent it.
Season Six
The Lamb tableau was originally an early artistic tableau by Professor James Gellar. He set it up on campus to draw attention into his work on the Enesserrette cult. Angel Batista found a college newspaper clipping with a photo of Carissa Porter with a dead lamb on her head. Joey Quinn said the lamb represented sacrifice and the girl represented sinfulness.
The concept was later used by Travis Marshall as his last tableau to bring on the End of Days. The enactment was to take place on top of a Miami skyscraper during an eclipse, and included the sacrifice of an "innocent." The tableau was unsuccessful in ending the intended victim's life (Harrison Morgan). After a conflict between Travis andDexter Morgan, Harrison was rescued in time by his father.
Travis was taken to the church by Dexter where he was killed, after Dexter mocked his religious beliefs.
Victims
Unnamed Uniform Cop - Before Harrison was saved by Dexter, Travis took the officer's life in order to continue with the sacrifice of The Lamb.
Attempted Victims
Related Pages
Trivia
The Book of Revelation includes over twenty-nine references to a lion-like Lamb.[1]
Gallery
References