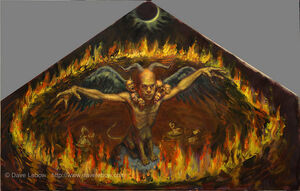 The Lake of Fire is a crime scene in Season Six of Showtime's series DEXTER.
The Lake of Fire was the seventh of the major Doomsday Tableaus, and the only one not displaying a victim.
Episodes
The Crime
Attempted murder: Dexter Morgan was the intended victim of this tableau, but he escaped from a ring of fire in the ocean. After swimming all night, he was rescued by a boat carrying Cuban refugees. Miami Homicide never knew this, however, as they saw it only as the final Tableau.
Method
After capturing Dexter, the killer took Dexter seven miles out to sea using his own boat. He tied Dexter's hands, put him in a lifeboat along with containers of gasoline, and set the water on fire. The flames spread out to the boat, causing a giant explosion, which led Travis to assume that Dexter was killed.
Motive
Dexter Morgan was chosen for antagonistic reasons as Travis Marshall's sixth Doomsday Victim. He knew that Dexter was hunting him, and Travis came to the conclusion that Dexter was the Beast that needed to be killed in this Tableau. Travis tried to convey the destruction of the devil in a hellish setting, which foreshadowed his greater plan to bring on the End of Days. Miami Metro Homicide discovered this plan through Gellar's notebook and by Detective Mike Anderson's understanding of the Book of Revelation.
Clues and Evidence
The clear evidence that it was a Doomsday Tableau was the ring of fire in the ocean. Nothing else was examined since Homicide did not go to the scene.
Attempted Victim
Suspect and Killer
Detectives and Forensics
No law enforcement officials were present at the crime scene because it took place in the Atlantic ocean, but the following people discussed the scene in relation to the other tableaus:
Notes
Related Pages
Gallery