The Doomsday Killer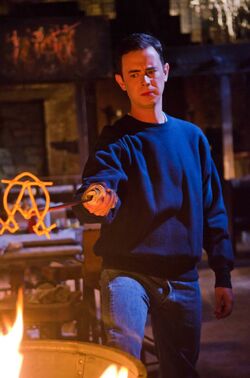 Killer Profile
"The Doomsday Killer"
Inactive
Number of Victims
At least 12 (directly)
2 (indirectly)
Modus Operandi
Tools/Weapons
Ancient Roman Sword of John the Revelator,
surgical equipment to cut open a human corpse and sew it back up
Killing Method
Method depended on the Tableau (commonly stabbing).
Method of Disposal
The disposals were also dependent of the Tableau.
Cause
Since birth, Travis had a psychological disorder that made him extremely violent. He killed his parents at childhood then killed his Professor feeling that he was "invincible." He then shut out the memory. He may have used the Doomsday Killings simply in order to satisfy his need to kill, a "Justification" that he was searching for.
For info regarding the character behind the serial killer, visit here.
The Doomsday Killer was the Main Antagonist of Season Six.
Summary
His kills were very decorative and religiously inspired. He sought to bring about the end of this world and the beginning of the new one by fulfilling specific Biblical Prophecies, which he believed would bring this into effect.
Victims
Attempted Victims
Trivia
Related Pages
Community content is available under
CC-BY-SA
unless otherwise noted.