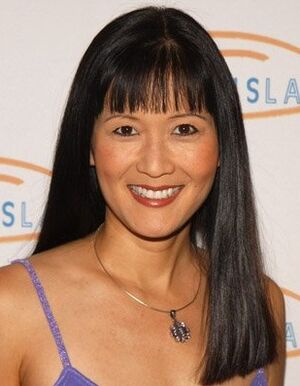 Suzanne Whang (born 28 September 1962) is an actress, writer, producer, author, and stand-up comedian.
In 2013, she played Anchor Woman (Channel 8) (credited as Anchor Woman) in Showtime's series DEXTER.
Appearances
Career
Film
Her film credits include roles in Think and Grow Rich: The Legacy (2017 Documentary); Til Death Do Us Part (2017); A Weekend with the Family (2016); The Widow's Mark (2014); Son of Morning (2011); Twice as Dead (2009); Traci Townsend (2007); Material Girls (2006); Now That's Funny (2005 Video); Edison (2005, uncredited); Constantine (2005); Melvin Goes to Dinner (2003); HouseSitter (1992); and A Matter of Degrees (1990).
TV Movies
Her TV movies include Defrost: The Virtual Series (2019); Double the Trouble, Twice the Fun (2018); Un-Broke: What You Need to Know About Money (2009); Ring of Darkness (2004); and The Perfect Husband: The Laci Peterson Story (2004).
Shorts
Her shorts include Mr. Right Now (2019); Kim Jong-Un Hosts the Tonight Show (2015); Scheana Shay Wedding Planner (2015); Midnight (2014); Getting Lemons (2012); Carmageddon, Traffic Update (2011); Fresh News (2005); Date or Disaster (2003); and Seoul Mates (2002).
Television
Her TV credits include appearances on For The People; Now We're Talking; The Mick; Angel from Hell; Kingdom; The Real Cat Therapist of Beverly Hills; After Dark with Julian Clark; TMI Hollywood; The McCarthys; Hungry; The Kim Kardashian Show (mini-series); From Here on OUT; About a Boy; Anger Management; Don't Ask Nancy; Arrested Development; General Hospital; The Secret Life of the American Teenager; Las Vegas; House Hunters; Brothers & Sisters; Cold Case; Without a Trace; House Hunters International; Boston Legal; Criminal Minds; Nip/Tuck; Two and a Half Men; Still Standing; The Practice; Robbery Homicide Division; Strong Medicine; NYPD Blue; The Chronicle; 18 Wheels of Justice; Norm; New Attitudes; V.I.P.; Fox After Breakfast; The Pet Department; Breakfast Time; and Personal FX: The Collectibles Show.
Video Games
1996: Secrets of the Luxor
Personal Life
Suzanne was born in Arlington, Virginia. She took piano lessons starting at age nine for seven years, and performed in classical music recitals. In junior high school, she was a gymnast. She graduated from Yale University with a B.A. in Psychology, and from Brown University with a Masters in Cognitive Psychology. She is divorced from Jay Nickerson and they have two two children. She is also divorced from Michael Freed. [1]
Trivia
She enjoys skydiving, hang gliding, bungee jumping, and rock climbing.
References
Community content is available under
CC-BY-SA
unless otherwise noted.