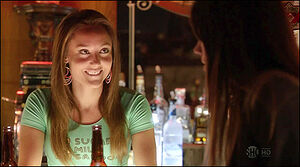 Sugar Mill Saloon is a location in Showtime's series DEXTER.
It is bar frequented by Ray Speltzer where Melanie Garrett works as a bartender.
Season Seven
Dexter is stalking Ray Speltzer, whom he suspects of being a serial killer. He hopes to convince Debra Morgan (who recently discovered his dark secret) that he should eliminate Speltzer before he can strike again. He allows Debra to follow him to the bar and, when she arrives, he has already ordered her a beer. He proceeds to make his case, pointing out Speltzer at a table nearby, hitting on a barmaid, Melanie Garrett. Dexter tells Debra that Speltzer shaved his head, something he always does before he commits a murder. Debra is appalled that Dexter wants to kill Speltzer, and she tells him so in no uncertain terms. After Speltzer kills Melanie, Debra reluctantly agrees with Dexter that her death could have been prevented if he had killed Speltzer.
Related Pages
Gallery
Community content is available under
CC-BY-SA
unless otherwise noted.