Stuart Frank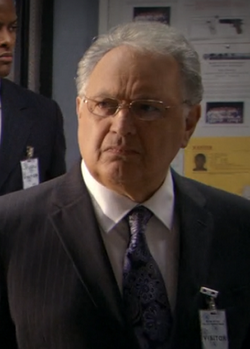 Stuart Frank is a character in Season Five of the Showtime series DEXTER.
He is affiliated with Jordan Chase, and represents him as his attorney.
Description
Stuart appears to be man in his early 60s, and wears dress suits common of people working in business and law firms. He has combed white hair and a slightly heavyset face and body. He is shorter than his client, Jordan Chase, and wears glasses.
Personality
Stuart comes off as many other attorneys. He's strict, to the point, and cares about his client's interests above all else.
Summary
Jordan Chase, his attorney Stuart Frank, as well as three bodyguards, enter the Miami Metro homicide department. Jordan introduces Stuart to Debra Morgan and Joey Quinn as his "friend and attorney."
Stuart asks why the police are requesting a DNA sample from his client. Debra explains, saying they found unidentified male DNA on the victims in the Barrel Girls Case. They merely want to clear Mr. Chase as a suspect, since the DNA they do have is tied to men connected to Chase. She names Cole Harmon and Boyd Fowler as examples. Stuart states there is nothing to implicate his client.
Debra pulls out a photo of a Barrel Girl victim, being abused and Jordan acts disgusted. He claims that he wants to help find the perpetrator. Against Stuart's advice, he volunteers to give a cheek swab. Debra directs him to Dexter's lab. When Jordan enters the lab, he and Dexter engage in a brief conversation. Jordan, not so subtly, threatens Dexter, and Dexter tells Jordan outright that his time is up. Just then, Stuart enters the lab and Jordan and Dexter shake hands in front of him before Jordan departs.
Related Pages
Gallery
Community content is available under
CC-BY-SA
unless otherwise noted.