Stan Beaudry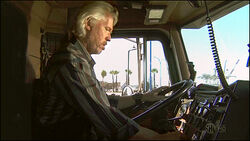 Character Profile
Portrayed By
Ian Patrick Williams
First Appearance
Hello, Dexter Morgan
Last Appearance
Hello, Dexter Morgan
Character
Full Name
Stanley Beaudry
Aliases
"Stan the Man"
Status
Deceased
Manner of Death
Neck sawed out by Dexter Morgan.
Characteristics
Age
59 (at death)
Gender
Male
Eyes
Blue
Hair
Gray
Personal Status
Marital Status
Single



Professional Status
Profession
Truck Driver
Killer Profile
"No Known Alias"
Inactive
Number of Victims
1
Modus Operandi
Tools/Weapons
Crowbar
Killing Method
Bludgeons victim's head with a crowbar
Method of Disposal
None
Cause
Unknown
Stanley "Stan" Beaudry is a character in DEXTER. Stan Beaudry was one of Frank Lundy's Trinity Killer suspects. He was a long-haul truck driver based in Miami, transporting goods all over the country. At one point in his life, he bludgeoned a prostitute to death with a crowbar and dumped the body on the roadside. When the chain of custody makes a mistake in handling the evidence, the crowbar used to kill the victim became contaminated. As a result of this error, the entire case against Beaudry was dropped, and he ended up walking free with no conviction for his crime of murder..
Plot
As the Miami Metro Police begin to close in on Trinity, Dexter decides to frame another suspect to buy himself time to deal with the real Trinity. He chooses to frame Beaudry after reading Lundy's file, and decided he would be convincing enough to throw off the police. Beaudry is found at a truck stop, and Dexter hides in the back of his truck, strangling Beaudy the moment he sits down. He has a small makeshift kill room setup in the back of Beaudy's own truck to speed the process along. Though in a hurry, Dexter still performs his usual ritual with Beaudry, collecting a blood sample and confronting him with his previous crime, although it is all done a quicker pace than usual. Despite being restrained and facing his own death, Beaudry remains enraged throughout the process, threatening Dexter up until the moment Dexter cuts his throat.
Before disposing of Beaudry's remains, Dexter plants Lundy's Trinity files inside of his truck and leaves a picture of Christine Hill and several items with traces of Trinity's DNA in places the police will find them.
Dexter also leaves items with traces of Trinity's DNA in Stan's house along with the hammer used by Trinity to bludgeon his victims.