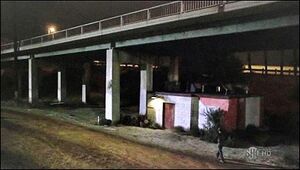 Secret Skinning Spot is a location is Season Three of the Showtime series DEXTER.
It's a small, concrete block building hidden under an overpass. George King, aka The Skinner, rents it with cash as a place to grow palm trees and also to torture his victims.
Location
164th Street
Miami, FL
Summary
Debra Morgan's boyfriend, Anton Briggs, is being held captive by George King in the building. Anton, tied to a chair, is in severe pain due to King having peeled skin from his right shoulder with a knife. King is trying to force Anton to reveal the whereabouts of Freebo, but Anton doesn't know. In desperation, Anton offers to pay King the money that Freebo owes him. King scoffs, stating that he loaned it to Freebo, and it's about "respect." King eventually leaves, telling Anton that he'll be back soon. Left alone, Anton screams for someone to help him.
For a short time, King is held in police custody, but he's released by reason of lack of evidence. He heads back to the building where Anton is being held.
Meanwhile, Debra and Joey Quinn have tricked King's assistant, Mario Astorga, into revealing the location of King's building. As King is unlocking the padlock on the door, Quinn and Debra arrive on scene. King, spotting their headlights, runs away before they see him. Quinn smashes down the door with their car, and they rescue a grateful Anton.
Debra and Quinn are back inside the building, searching for clues to the whereabouts of King. When Debra has trouble receiving a cell phone call, she asks Quinn for change to use at a nearby pay phone. She suddenly realizes that King must have used the same pay phone. By checking the phone records, Debra learns that the King had been hired to do work on a rich woman's yard while she was out of town. Debra rightly guesses that King might use that empty house as a hideout. Although they find him there, King manages to escape, injuring Quinn.
Related Pages
Gallery