Scott Smith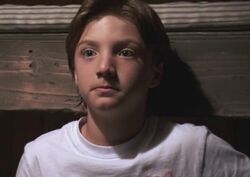 Character Profile
Portrayed By
Jake Short
Season(s)
Season Four
First Appearance
Lost Boys
Last Appearance
The Getaway
Appears in
Three Episodes
Character
Full Name
Scott Smith
Nicknames
Arthur (by Arthur Mitchell)
Status
Alive
Characteristics
Age
10
Gender
Male
Eyes
Blue
Hair
Brown
Personal Status
Marital Status
N/A
Immediate Relatives
Nick Smith (father)
Barbara Smith (mother)
Abby Smith (sister)
Professional Status
Profession
Student
Scott Smith is a child character on Showtime's series DEXTER.
He was an attempted victim of Arthur Mitchell.
Summary
Arthur approached Scott in arcade and pretended to be a police officer. He led Scott to his van in the parking garage, where he sedated and captured him. Arthur then took Scott to a bomb shelter, where he had a toy train and tracks set up. He began to call Scott by the name "Arthur" and pressured him to put on a pair of pajamas.
At first, Scott feared Arthur and was resistant to him. Later, Scott began to feel sympathy for Arthur after he told him the story of his sister, Vera Mitchell. To make Arthur happy, Scott agreed to be called "Arthur."
After Scott promised to stay "innocent," Arthur said it was time to set him free, and gave Scott (drugged) ice cream to eat. When Scott passed out, Arthur took him to a Four Walls One Heart construction site, and attempted to bury him alive in cement. At that moment, Dexter Morgan arrived, and struggled with Arthur. He was able to save Scott, but Arthur escaped.
Later, Scott was interviewed by Debra Morgan, and he recalled exactly how Arthur kidnapped and drugged him. He also remembered a vital clue -- the logo for Four Walls One Heart.
Related Page
Community content is available under
CC-BY-SA
unless otherwise noted.