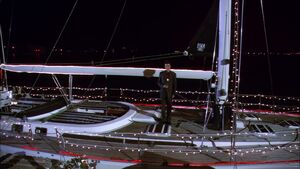 Rudy's Yacht is an object and a location in Season One of Showtime's series DEXTER.
It a yacht rented by Brian Moser (under the alias, Rudy Cooper) to kidnap Debra Morgan.
Season One
Rudy calls Debra and persuades her to have dinner with him. That night, Debra takes a break from work and drives to the Miami Beach Marina. Rudy is waiting for her on a yacht that he had romantically decorated in sparkling lights. He semi-surprises Debra by proposing marriage to her, giving her the ring that belonged to Monique. Debra is overjoyed and, after she says yes, Rudy insists they celebrate with a glass of champagne.
Impressed by the yacht, Debra tells Rudy that she didn't realize he was into things like that. He replies that she has a "lot to learn" about him. Instead of drinking the champagne, Rudy places a lozenge in his mouth. He lays its wrapper down in front of Debra and kisses her. Smelling menthol, she pulls away. Then she notices the wrapper, which sparks a feeling of uneasiness. To her disbelief, Rudy reveals that he is The Ice Truck Killer. He questions her on why she didn't realize it, keeping her in a choke-hold until she passes out.
An unconscious Debra lies on the deck of the yacht. Her hands and legs are bound with duct tape. Suddenly, her eyes open and she begins to struggle, trying to free herself. Nearby, Rudy is digging through items in a duffel bag.
A fearful Debra asks why he doing this, and he says it's part of his plan. At one point, Rudy pretends to care about Debra but then swiftly changes his demeanor, proving that he is a cold-hearted psychopath. He tells Debra not to be ashamed of being fooled by him, since many others bought his act.
When lights are seen on the horizon, Rudy moves Debra to an inflatable motorized raft, and they leave the yacht behind. He takes Debra to his childhood home where he waits for Dexter to find them.
Related Pages
Gallery
Community content is available under
CC-BY-SA
unless otherwise noted.