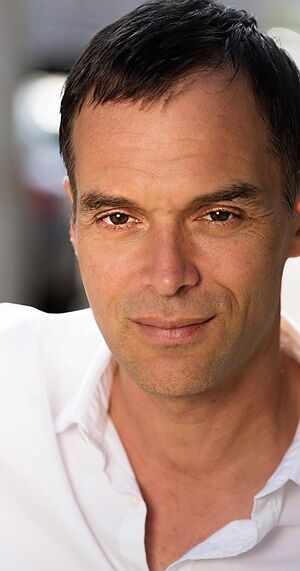 Rudolf Martin (born 31 July 1967) is a German actor working mainly in the United States.
He played Carlos Guerrero, a drug lord, on Showtime's DEXTER.
Appearances
Career
He first appeared in off-Broadway productions and then moved on to extensive TV and film work.
Personal Life
Martin was born in West Berlin and moved with his family from Berlin to Paris to Italy. Because of his interest in the arts, Martin studied American and English literature in Berlin and drama in Paris. After graduating from the Universite de Paris, he enrolled in the Lee Strasberg Theatre Institute in New York City to pursue acting. He then moved to Los Angeles in 1999, and, subsequently, to Hollywood.
He is married to Katherine LaPlant, and they have one child. He currently resides in Los Angeles..
Trivia
He played Count Dracula in Buffy the Vampire Slayer: Buffy vs. Dracula (2000) and Vlad Tepes, the historical figure on whom he was based, in Dark Prince: The True Story of Dracula (2000).
Gallery