Ron Galuzzo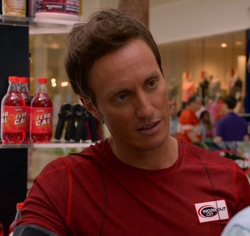 Character Profile
Portrayed By
Andrew Elvis Miller
Season(s)
Season Eight
First Appearance
What's Eating Dexter Morgan?
Last Appearance
What's Eating Dexter Morgan?
Appears in
One Episode
Character
Full Name
Ron Galuzzo
Status
Deceased
Manner of Death
Killed by Dexter Morgan.
Circumstances
Stabbed in the chest
Characteristics
Age
48
Birthday
12 March 1965
Gender
Male
Eyes
Brown
Hair
Brown
Personal Status
Marital Status
Single
Professional Status
Profession
Exercise equipment salesman
Affiliation
Work Out City
Killer Profile
"No Known Moniker"
Inactive
Number of Victims
At least 2
Modus Operandi
Tools/Weapons
Presumably, knives
Killing Method
Strangled one of his victims;
Neatly dismembered both of them
Method of Disposal
Remains cannibalized
Cause
Unknown
Ron Galuzzo is a Character in Season Eight of Showtime's series DEXTER.
He was a cannibalistic killer suspected by Dexter Morgan and Dr. Evelyn Vogel of being The Brain Surgeon.
Season Eight
Prior to the series, Galuzzo was treated by Dr. Evelyn Vogel, whom he had tricked into believing that a school bully had killed his friend. In reality, he had killed him.
Dexter initially suspects that Galuzzo is The Brain Surgeon, so he begins to vet him. He first stalks Galuzzo at the Twin Palms Mall where he works selling exercise equipment at a Work Out City kiosk. Dexter pretends an interest in Galuzzo's merchandise, and even hops aboard an elliptical while he tries to determine whether Galuzzo is The Brain Surgeon. Galuzzo measures Dexter's body/fat ratio, something that takes on a new meaning later. When Dexter brings up Dr. Vogel (by showing Galuzzo her book), Galuzzo pretends he doesn't know her, which makes Dexter realize that he's hiding something.
Later, when Dexter breaks into Galuzzo's house, he notices that it is a mess, except for the kitchen which is clean and orderly. Dexter opens a slower cooker and finds a finger simmering among the vegetables. He shows his disgust. Then he looks inside the fridge where he discovers plastic containers labeled with organs and body parts. One of them holds a whole brain marinating in a garlic sauce, Dehe xter realizes that Galuzzo is a different type of killer than The Brain Surgeon.
Fittingly, Dexter kills Galuzzo in his own kitchen, but not before telling him that he thinks that Galuzzo and himself are alike (due to Dexter's feeling that he "consumes" those he cares about).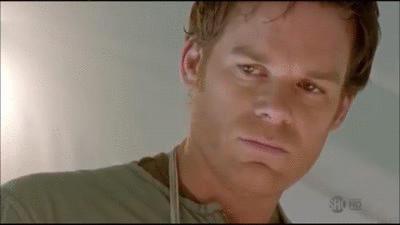 Related Pages
Trivia
Galuzzo is the first and only cannibal featured in the series.
Ron Galuzzo is named after Rob Galluzzo, the producer/sound engineer for Dexter: Wrap Up; The official Dexter podcast for Showtime.
Ron Galuzzo is not the only cannibalistic antagonist of the franchise. Dexter faced a group of cannibals known as The Coven in Dexter is Delicious, a novel released prior to Season Eight.
Galuzzo is the final shown ritual kill successfully carried out by Dexter.
Gallery
Community content is available under
CC-BY-SA
unless otherwise noted.