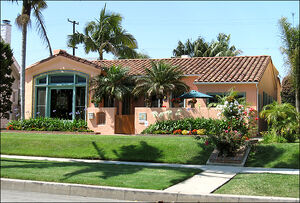 Rita and Dexter's House is a location in Season Four and Season Five of the Showtime series DEXTER.
After their wedding, Dexter and Rita buy this house in the suburbs of Miami, near Kendall. Rita Bennett's House is a separate location, where she lived before she married Dexter Morgan.
Since Dexter prefers to live in his apartment, the house is eventually renovated and sold (not shown), after Rita's death.
Address
3319 Meadow Lane
Miami, FL
Occupants
Neighbors
Season Four
Dexter discovers that the neighborhood vandal is Andy Brightman, not his son, Jesse.
Dexter ambushes a killer cop, Zoey Kruger, inside this house.
Dexter temporarily stores his killing tools and blood slides in a backyard shed, after he gives his apartment over to Debra.
Rita holds a Thanksgiving dinner, attended by Debra, Vince Masuka, and Elliot Larson. On this same day, Dexter attacks Arthur Mitchell in his home and Rita is kissed by Elliott.
Debra stays in this house for a short time after Frank Lundy's death, while she recovers from having been shot herself.
Rita is murdered in this house by The Trinity Killer.
Season Five
After cleaning up Rita's blood, Debra Morgan and Joey Quinn first have sex in this house.
Dexter decides that it would be too painful for Astor and Cody to live here. After Astor returns to the house to see where her mother was murdered, she refuses to live with Dexter. Both she and Cody move to Orlando with their grandparents, while Dexter and Harrison reside at his apartment.
Dexter lets Lumen Pierce stay here after she goes into hiding from Jordan Chase.
Related Pages
Trivia
The real life address of this house is 3319 E. 1st Street, Long Beach, CA.
Gallery