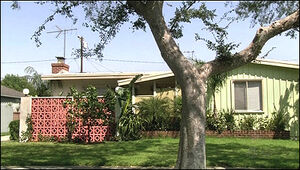 Rita's House is a location in the first three seasons of the Showtime series DEXTER.
It's where Rita Bennett and her two children live while she's dating Dexter Morgan.
Rita and Dexter's House is a different location where she lives after they're married.
Address
2348 San Angeline St.
Miami, FL 33018
Season One
Ricky, a drug dealer, shows up to get the money that Paul Bennett owes to him. When Rita informs him that Paul no longer lives there, Ricky demands that she hand over her car. In disgust, Rita throws the car keys at him. Dexter is ready to fight, but he is forced to stand down by Rita.
A dog belonging to Rita's Neighbor barks so much that Rita and her children begin to suffer from lack of sleep. Rita finally steals the dog and give it to Yelina's nieces.
Rita hits Paul Bennett with a baseball bat after he tries to sexually assault her.
Dexter knocks Paul unconscious with a frying pan in the kitchen. While Rita is in another room, Dexter drags Paul to his car, losing a shoe in the process. He takes Paul to his motel room and shoots him up with heroin, after which Paul is returned to prison.
Season Two
To be added
Season Three
To be added
Occupants
History
Related Pages
Gallery