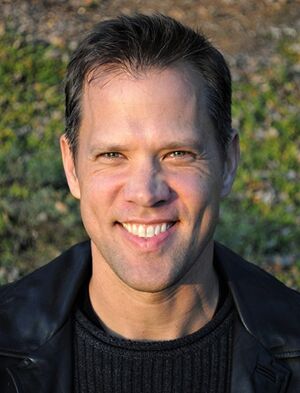 Rick Peters (born 1 June 1967) is an American actor.
In 2009 and 2010, he played Elliot Larson, a neighbor of the Morgans, on Showtime's DEXTER.
Appearances
Career
Film
His film credits include roles in Night of the Demons 2 (1994); Leprechaun 4: In Space (1997); Disappearance of Kevin Johnson (1997); Live Virgin (1999); Small Change (2009 short); Gun Shy (2000); Night Class (2001); Apartment 12 (2000); American Virgin (2000); The Craving Heart (2006); Everyone's a Victor (2007 short); Fool's Dream (2009); The Composition (2009 short); Kendall (2009); The Mel Bourne Ultimatum (2009); Sympathy for Delicious (2010); Creed (2010); The Professor (2013 short); One Night in Hollywood (2015 short); and Holidays (2016).
TV Movies
His TV movies include Family Values (1995); Cutty Whitman (1996); Elvis Meets Nixon (1997); Bouncers (1997); This Matter of Marriage (1998); Happy Face Murders (1999); Late Last Night (1999); and Single White Millionaire (2009).
Television
His TV credits include Against the Grain; McKenna; Full House; Pensacola: Wings of Gold; The Hoop Life; Second Chance; The Pretender; Providence; CSI: Crime Scene Investigation; Bull; Sue Thomas: F.B.Eye; Smallville; Andy Richter Controls the Universe; CSI: Miami; Close to Home; Veronica Mars; Aquaman; Heroes; Shark; Here Comes the Judge; Without a Trace; The Event; The Mentalist; NCIS; Masters of Sex; NCIS: Los Angeles; Agent Carter; Criminal Minds; NCIS: New Orleans; Castle; Major Crimes; Rizzoli & Isles; The Glades; Fairly Legal; Swingtown; Desperate Housewives; Grey's Anatomy; CSI: NY; Bones; Los Vegas; Close to Home; Strong Medicine; Vengeance Unlimited; Under Suspicion; Life Goes On; Freshman Dorm; Twisted; Legit; How to Get Away with Murder; and Legends.
Video Games
1996 Ace Ventura (voice)
1997 G-nome (voice)
1998 Return to Krondor (voice)
Personal Life
He was born in a suburb of Detroit. He is the fifth child of six in his family, with two sisters and three brothers. The family subsequently moved several times -- first to England, back to Michigan, then to Australia, and finally to California, where he finished high school. He currently resides in southern California with his wife and two children.
Trivia
His character's name is spelled "Elliot" in the credits - not "Elliott."
Gallery