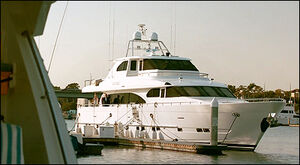 Reverie is an object and a location in Season Eight of Showtime's series DEXTER.
It is a large yacht owned by Miles Castner, the wealthy second husband of Hannah McKay.
Summary
After Hannah McKay drugs Dexter Morgan and dumps him on the side of the road, Dexter uses footage from traffic surveillance cameras to spot Hannah's car on that road and gets her license plate number. He traces that to Slip 23 at the Vista Marina. He goes to that marina address, and finds the large, white yacht Reverie docked there. He sees Hannah leaving the ship with an older man. Dexter thinks that it is brave of her to be walking around Miami like that. He then sees her kiss the man, and thinks to himself that maybe she has found someone to protect her. Dexter later learns that the man is Hannah's new husband, Miles Castner, a casino mogul worth $700 million.
Later, Miles confronts Hannah aboard the yacht when she returns from shopping. He has discovered that she met with Dexter the day before and flies into a jealous rage, pinning Hannah to the bed. He tells her that he will keep her a virtual prisoner aboard the yacht. Dexter sneaks aboard the Reverie just in time to find Hannah kneeling over the dead body of Miles. He comforts her and helps dispose of the body in the Gulf Stream.
Related Pages
Gallery