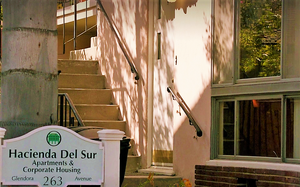 Oliver Saxon's Apartment is a location in Season Eight of Showtime's series DEXTER.
For four years, it was the residence of The Brain Surgeon, until he hurriedly moved out after the police paid him a visit.
Address
The Hacienda Del Sur Apartments, #1A
263 Glendora Ave, Miami
Season Eight
After talking to Jamie Batista, Debra suggests to Joey Quinn that they should question Cassie's boyfriend, Oliver Saxon, about her murder. They pay a visit to Saxon at his apartment, which is simply furnished with a sofa, table, and chairs. A bike is stored on a wall, and work related items lay on the table. A coat tree holds his jackets.
Saxon insists that he was at work when Cassie was killed. When Debra trips him up with a question about a trip to the Bahamas, Saxon becomes annoyed that she caught him in a lie. He accuses Debra of not understanding the love that he and Cassie had for each other.
Outside the apartment, Debra remarks to Quinn that she had forgotten how much she enjoys police work. Quinn then kisses her, which surprises Debra. He apologizes to her, and Debra suggests they pretend it didn't happen.
Meanwhile, Dexter learns that The Brain Surgeon is likely Evelyn Vogel's long-lost son, and possibly the man known as Oliver Saxon. When Dexter learns that the police questioned Saxon, he feels pressed for time. After dark, he goes to Saxon's apartment to find evidence. However, when Dexter looks through Saxon's window, he discovers that he has already moved out. Dexter then searches his trash, and finds a soda can with Saxon's saliva on it. He tests the DNA, and the results confirm that Saxon is indeed Vogel's son.
Later, when questioned at the station by Quinn, Saxon says that he moved out of his apartment because it held too many memories of Cassie.
Related Page
Gallery