Mrs. Doakes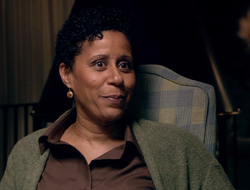 Mrs. Doakes is a Character in the Showtime series DEXTER.
She is the mother of Sergeant James Doakes as well as Jess and Roni Doakes, his sisters.
Season One
She was married to the now deceased Mr. Doakes, a butcher who abused his family. Mr. Doakes is mentioned by both James Doakes and Frank Lundy during the Ice Truck Killer Case.
For quite some time, Mrs. Doakes has wanted her son, James, to come over for a family dinner and keeps texting him about it. Eventually, he gives in but brings Officer Debra Morgan along to provide an excuse to leave early. However, she ends up causing him to stay longer as she spends the evening chatting easily with his family.
In a conversation between Dexter and James Doakes while the former imprisons him, Dexter mentions that no one would miss him. Doakes tells him that he has a family - a mother and sisters. Dexter replies, "That you never visit."
Season Two
She and her daughters are not seen again until after James is killed by Lila West and framed for being The Bay Harbor Butcher. They attend his funeral in an almost empty church, and sit together in the the front pew, sobbing. Lieutenant Maria LaGuerta sits behind them a few pews back, with Dexter Morgan sitting near the rear doorway.
Related Pages
Community content is available under
CC-BY-SA
unless otherwise noted.