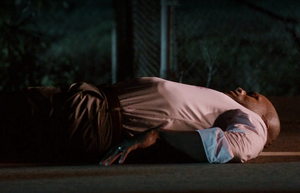 Mike Anderson Case is a police investigation in Season Seven of Showtime's series DEXTER.
It deals with the murder of homicide Detective Mike Anderson.
The previous major case before this one was the Doomsday Killer Case. The next and last major case after this one is the Brain Surgeon Case.
Suspects
History of Killer
Viktor Baskov was the manager of the Koshka Brotherhood's business operations in America, under the direction of his boss and lover, Isaak Sirko. He was tasked with ensuring that the Columbians didn't push into their territory in Miami.
One night, Viktor picked up a stripper from The Fox Hole named Kaja Soroka and, for unclear reasons, he killed her. Mike Anderson stumbled upon her body inside his car and was promptly shot by Viktor.
After Viktor killed Mike, it was arranged that Viktor would be flown back to Ukraine. When he didn't show, Isaak then flew to Miami and started looking for him. Isaak learned that Viktor had been murdered, and began to search for his killer, while eliminating potential witnesses to the crimes.
Detectives on Case
Other operatives involved in the case:
Victims
Additional Victim
Closure of Case
The case is officially closed because Alex Dubrozny committed suicide and left a note confessing to the murders.
Fate of Killer
Viktor Baskov escaped justice from law enforcement. However, he was killed by Dexter Morgan inside a lost item storage unit in Miami International Airport. ("Are You...?")
Related Pages