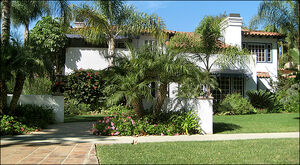 Miguel Prado's House is a location in Season Four of Showtime's series DEXTER.
It is a Spanish-styled house in Miami, that is the residence of ADA Miguel Prado.
Address
1611 Westphalia Drive
Miami, FL 33020
Season Three
As they walk up to Miguel's home, Rita tells Dexter that they need to discuss her pregnancy. Prado and his wife, Sylvia, greet them at the door. During the visit, Sylvia learns that Rita is pregnant, and Miguel informs Dexter that he is getting close to finding Freebo.
The backyard and patio are shown when Rita and Dexter attend a BBQ at Miguel's house. During the event, Miguel begins to argue with his brother, Ramon and, afterwards, Miguel tries to convince Dexter to tell Ramon that Freebo is dead.
At another time, the Prados and the Morgans are relaxing on Miguel's patio, Sylvia discusses with Rita about working in her real estate business. Off to the side, Miguel lets Dexter know of his plan to kill Clemson Galt.
When Dexter tells Miguel that they can't kill Ellen Wolf, Miguel becomes enraged, and Dexter quickly leaves.
On the morning after Miguel murders Ellen Wolf, Dexter goes to Miguel's house and meets with him outside. Miguel is in an exceptionally cheery mood.
Only the front door of the house and part of its interior are shown. Dexter convinces the housekeeper to let him inside. He then searches Miguel's study until he finds the wedding ring that Prado had taken as a souvenir from the finger of Ellen Wolf. Dexter steals the ring from Miguel's cigar box, and leaves behind a claim ticket from a dry cleaning business. When Miguel discovers that the ring is missing, he knows immediately that Dexter has it.
Related Pages
Gallery