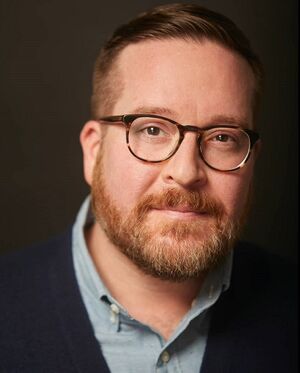 Michael Cyril Creighton is an American actor, writer, director, and producer.
He plays Fred Jr. in the Showtime special event series Dexter: New Blood.
Appearances
Career
Films
His film credits include roles in Paper Spiders (2020); The Outside Story (2020); Can You Ever Forgive Me? (2018); Game Night (2018); The Post (2017); Home Again (2017); Fits and Starts (2017); Coin Heist (2017); Spotlight (2015); Sleeping With Other People (2015); 3rd Street Blackout (2015); and How To Follow Strangers.
Shorts
His shorts include Cotton Candy (2005); and Mr. Lamb (2014).
Television
His TV credits include roles on Dash & Lily; AJ and the Queen; Bob's Burgers (voice); Billions; Graves; Neon Joe, Werewolf Hunter; The Good Fight; High Maintenance; Horace and Pete; The Outs; 2 Broke Girls; Sex & Drugs & Rock & Roll; Nurse Jackie; Person of Interest; Orange Is the New Black; Jack in a Box; Louie; Very Mary-Kate; 30 Rock; and Jeffery & Cole Casserole.
Theatre
His onstage appearances include roles in:
2018: The Amateurs
2014: Stage Kiss
2012–2013:  Blood Play
2010–2011: Buddy Cop 2
2010: You're Welcome
2009–2010: MilkMilkLemonade
2008: Cape Disappointment
2007: The Vietnamization of New Jersey
Awards
2013 - Writers Guild of America Award, Winner, Outstanding Achievement in Writing Original New Media (for Jack in a Box)
2010 - New York Television Festival, Winner, Best Web Series Pilot (for Jack in a Box)
Personal Life
Creighton was raised on Long Island, New York, by his mother and maternal grandparents. He attended Catholic school. He was a founding member of the New York Neo-Futurists and performed weekly in Too Much Light Makes the Baby Go Blind. [1]
References