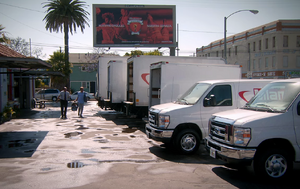 Miami Move and Haul is a location is Season Five of the Showtime series DEXTER.
It's a business where Dexter Morgan rents a moving van in which there is a mysterious bloodstain.
Summary
Dexter decides to move out of his house following the murder of his wife. At Miami Move and Haul, he's greeted by the rental agent who walks him through the lot, presenting vehicles of different sizes. In the back of the 14-footer, Dexter notices a bloodstain. Immediately curious, he rents that particular truck.
That night, Dexter checks out the bloodstain. By using Luminol, he discovers more blood, including hand prints. During an online search, Dexter learns that the last person to rent the van was Boyd Fowler, a dead animal pickup officer. When Dexter runs a test on the blood, he discovers it's human and Boyd becomes his next target.
Related Pages
Gallery