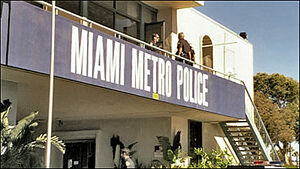 Miami Metro Police Department (MMPD) is the foremost law enforcement agency in the Showtime series DEXTER.
As the driving force of justice in Miami, it is featured in every episode.
Address
2901 Clark Street
Miami, FL
Counterpart
Deputy Chief
As Deputy Chief, he directly oversees every officer and detective in the department with only the Board of Directors, Chief of Police, and higher government superseding his authority. He has the right to promote or strip someone of rank.
Captains
Lieutenants
Sergeants
Detectives
Police Officers
Special Task Force
Main page: Special Task Force
Forensics
Vice
Narcotics
Internal Affairs
Burglary & Theft
Missing Persons
Sexual Assault
Records
Trivia
Notes
Gallery
Community content is available under
CC-BY-SA
unless otherwise noted.