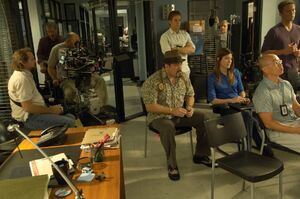 Miami Metro Homicide is a division within the Miami Metro Police Department.
It is the central department within both the DEXTER Showtime series and the Dexter Novels.
Management
While the Homicide Dept. is generally run by Lieutenant (later Captain) Maria LaGuerta or Lieutenant Debra Morgan, it is often taken under control by Thomas Matthews.
Detectives
Detectives on the force handle their own cases, as well as assisting others in the field.
Officers
Forensics
Forensics are the key resource to providing evidence to support the cases of Detectives.
Cases
Homicide covers many cases each year; however, certain cases become a prime focus for multiple detectives and they usually center around Dexter Morgan in some way.
Main Cases
Minor Cases
Main page :List of Police Cases
Related Page