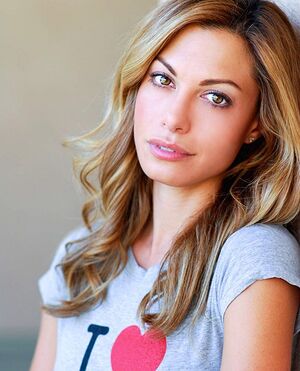 Meredith Giangrande (born July 1981) is an actress and producer.
In 2012, she played LaVida Hostess (credited as Hostess) in Showtime's series DEXTER.
Appearances
Career
Film
Her film credits include roles in Writer's Block (2017); Bucky Larson: Born to Be a Star (2011); The Legend of Hell's Gate: An American Conspiracy (2011); Van Wilder: Freshman Year (2009 Video); Fast & Furious (2009, uncredited); Pool Party (2007); X's & O's (2007); The Metrosexual (2007); The Dukes (2007, uncredited); Don't Be Scared (2006 Video); Shutter (2006); Accepted (2006); and Bewitched (2005, uncredited).
TV Movies
Her TV movies include Cloudy with a Chance of Love (2015); Parental Payback (2012); and Ring of Death (2008).
Shorts
Her shorts include In a Nutshell (2004).
Television
Her TV credits include appearances on Finders and Kee; Good Girls (uncredited); Blindspot (uncredited); American Housewife; NCIS: Los Angeles; Bosch; It's Always Sunny in Philadelphia; Jewbellish the News; Mom; 90210; Two and a Half Men; The League; The Mentalist; Rizzoli & Isles; Nip/Tuck; Valley Peaks; Monk; Pop Fiction; According to Jim; Life; General Hospital; Nick Cannon Presents: Short Circuitz; Mind of Mencia; and CSI: Crime Scene Investigation.
Personal Life
She was born as Meredith Jeanne Giangrande.
Trivia
Community content is available under
CC-BY-SA
unless otherwise noted.