Maura Bennett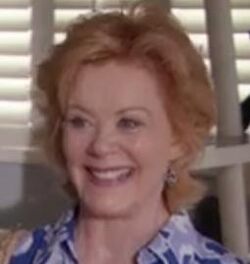 Character Profile
Portrayed By
Kathleen Noone
Different actress in "The Getaway"
Season(s)
Season Four
First Appearance
The Getaway
Last Appearance
The Big One
Appears in
Four Episodes
Character
Full Name
Maura Bennett
Status
Alive
Characteristics
Age
60s
Gender
Female
Eyes
Green
Hair
Red
Personal Status
Marital Status
Married
Spouse
Bill Bennett
Immediate Relatives
Paul Bennett (son, deceased)
Astor Bennett (granddaughter)
Cody Bennett (grandson)
Address
Orlando, Florida
Professional Status
Profession
Retired
Maura Bennett is a character in the Showtime series DEXTER.
She is the mother of Paul Bennett and the paternal grandmother of Astor and Cody Bennett.
Season Four
She and her husband, Bill, took Astor and Cody on a trip to Walt Disney World, while Dexter Morgan, Rita, and Harrison went on a honeymoon trip to the Florida Keys.
Season Five
When Cody, Astor, and their grandparents returned from their trip, they learned that Rita had been murdered by The Trinity Killer. Astor took it especially hard, saying that she hated Dexter for not protecting her mother.
For a couple of days, the children lived with Dexter in his apartment until Astor demanded to live her grandparents. Astor and Cody then moved to Orlando with them, while Dexter kept Harrison with him.
Later, they all came down to Miami for Harrison's birthday to the surprise of Dexter. Before they returned to Orlando, Astor and Cody asked to spend the summer with Dexter in Miami, and he agreed.
Related Page
Gallery
Community content is available under
CC-BY-SA
unless otherwise noted.