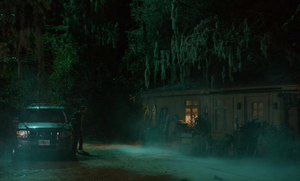 Lyle Sussman's Hunting Cabin is a location in Season Eight of the Showtime series DEXTER.
It's not Lyle Sussman's home residence, but it's where he spends much of his time.
Location
Between Lake Nona and Red Lake
Summary
Dexter Morgan suspects that Lyle Sussman is the Brain Surgeon and breaks into his house to search it. When he finds a photo of a hunting cabin at Lake Nona, he thinks that an isolated cabin is the perfect killing place.
It's after dark when Dexter finds Sussman's cabin. Inside, there is a table of knives and hunting equipment, along with a metal chair that could hold a strapped down person. A thumping noise is heard outside and Dexter heads out the back door to the porch. There he finds Sussman dead, hanging from a meat hook that's impaled in his skull. He begins to doubt that Sussman is the Brain Surgeon.
Dexter returns to Evelyn Vogel's house and tells her that he found Sussman murdered. He suggests that an accomplice killed Sussman but Vogel believes that the killer does everything alone. Dexter reminds her that Sussman's fingerprints were found at Leonard Welks' crime scene.
Later, the true killer leaves a DVD in Vogel's house that shows an unknown person forcing Sussman at gunpoint to suffocate Welks. Sussman is then shot in the back of his head.
By the time the police investigate the cabin, Sussman is found lying on the floor with a rifle wound in his head. His front teeth are broken, apparently from when he placed a shotgun in his mouth and pulled the trigger. Dexter finds gunshot residue on Sussman's hands and his death is ruled a suicide. The Brain Surgeon Case is subsequently closed. Dexter, though, knows that Sussman was shot postmortem to obscure evidence that he was ever hanging from a meat hook.
Related Pages
Gallery