Lori Kirkwood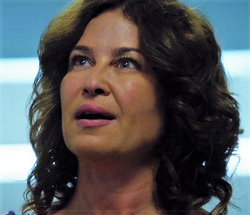 Character Profile
Portrayed By
Julie Warner
Season(s)
Season Seven
First Appearance
Chemistry
Last Appearance
Chemistry
Appears in
One Episode
Character
Full Name
Lori Kirkwood
Status
Alive
Characteristics
Age
40s
Gender
Female
Eyes
Green
Hair
Brown
Personal Status
Marital Status
Single
Immediate Relatives
Jake Kirkwood (brother, deceased)
Professional Status
Profession
Unknown
Lori Kirkwood
is a character on
Showtime
's series
DEXTER
.
She is the sister of Jake Kirkwood, a man poisoned by his wife, Hannah McKay.
Summary
Debra Morgan and Sal Price suspect that Hannah McKay murdered Jake Kirkwood, her husband. Debra says that a 40-year-old man doesn't suddenly drop dead of a heart attack. Although it's been ten years since Jake's death, Debra wants to exhume the body and test for aconite (a poison). Doubting that his next of kin, Hannah, will allow it, Sal informs her that Jake has a sister, Lori. The next day, Sal drops into Debra's office and gives her Lori's address.
Debra pays a visit to Lori to ask her permission to exhume her brother's body. She tells Lori that Jake may have been poisoned by his wife. Lori is shocked and says that Jake and Hannah seemed to have a great relationship. She discloses that Hannah had been pregnant but, soon after Jake's death, she had a miscarriage. Hannah then cut off the family and never reciprocated when Lori reached out to her.
Loris gives permission for the exhumation. However, when Jake's casket is opened, there are only bones with no tissue to test. Debra is told by the medical examiner that the next of kin must have specifically denied an embalming. Laurie becomes emotional, saying that it was all for nothing. Debra promises that she won't give up. When Debra meets Sal for lunch, she tells him about Jake's remains.
Later, Hannah states to Dexter that Jake pressured her to have an abortion.
Related Pages
Gallery
Community content is available under
CC-BY-SA
unless otherwise noted.