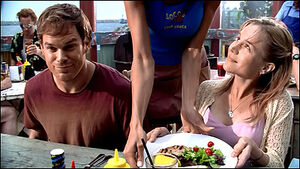 Loco's Crab Shack is a location in Season One of Showtime's series DEXTER.
It is an informal seafood restaurant in Miami, with indoor and outdoor dining areas.
Summary
Dexter Morgan and Rita Bennett go on a double-date at this restaurant with Debra Morgan and her new boyfriend, Sean the Mechanic. The weather is nice and they eat at a table on the patio. Throughout the meal, Debra and her new guy are very affectionate while Dexter is undemonstrative towards Rita. She feels insecure and mentions to Dexter how Debra and Sean can't keep their hands off each other. Meanwhile, Dexter watches a crime boss, Carlos Guerrero, who is buying a lobster from his parked vehicle just outside the patio. Dexter remarks to himself that it's out of character for Guerrero to buy lobsters to boil at home, since he leaves killing to others.
Not long after, Dexter is parked at night outside Matt Chambers' residence, preparing a syringe of M99. As he spots a drunken Matt, Debra texts him to come to Loco's Crab Shack. When he arrives, she informs him of her transfer to Homicide and wants to celebrate. Debra also says that she broke up with Sean because she discovered that he is married. Dexter notices Carlos Guerrero at another table. When Guerrero goes into the restroom, Dexter follows him, stands next to him at the urinals, and glares at him. After thinking it over, Dexter chooses not to kill him. He decides that since Guerrero lives in a dangerous world, he will likely end up dead. Dexter finishes dinner with Debra and returns to his plan of killing Matt Chambers.
Related Pages
Gallery
Community content is available under
CC-BY-SA
unless otherwise noted.