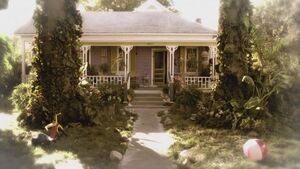 Laura Moser's House is a location in Showtime's series DEXTER.
It is a welcoming, one-story house with a front porch and yard.
Address
1235 Mangrove Drive
Miami, FL 34138
History
Dexter Morgan and his brother, Brian Moser, lived with their mother in this house before she was murdered. Dexter was then taken in by the Morgans when he was three-years-old. He grew up with no memory of the house, his mother's murder, or his brother. Brian, though, was a little older and never forgot any of what happened. As an adult, Brian tracked down his brother and left clues to jog his memory.
Season One
Dexter first went to this house in search of his adoptive sister, Debra Morgan, when she was kidnapped by Rudy Cooper. As he entered the yard, Dexter remembered playing there with his mother and a forgotten brother during childhood. Rudy stood on the porch and greeted him. Dexter realized that he was actually his brother, Brian, and called him "Bynie" (the name he used when young). Brian brought Dexter into the house so they could reunite, but when Dexter insisted on finding Debra, Brian sedated him. After Dexter woke up, they had a conversation about their pasts and Dexter began to accept Brian as his brother. Things went awry, though, when Brian revealed his plan. He took Dexter out to the garage where Debra was lying on a table, wrapped in plastic, in exactly the way Dexter would prepare his victims. Brian insisted that they kill her together, but Dexter refused and they engaged in a brief struggle, after which Brian escaped as the police arrived. Debra was taken to the hospital for evaluation, while Dexter arranged a trap for Brian in his apartment.
Season Four
Debra later returned to this house while in search of one of Harry's informants with whom he had an affair. When Debra saw the house, she remembered that it was the same house where she had been taken by the Ice Truck Killer. This led her to discover that Dexter and Brian were biological brothers.
Additional Info
Brian Moser's driver license lists the address of this house. He was, however, living at another location under the alias, Rudy Cooper. He later told Dexter that he bought the house for him, but Dexter said he was an "apartment person."
Related Pages
Gallery