Koshka Brotherhood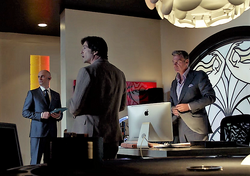 Killer Profile
"No Known Alias"
Inactive
Number of Victims
At least 9 in Miami (including Isaak being killed by George)
Modus Operandi
Tools/Weapons
Hitmen
Guns
Coerced suicide
Screwdriver
Killing Method
Generally, shoot or stab
Method of Disposal
None
Dumped corpses overboard
Cause
The desire for power and money
Revenge
Koshka Brotherhood
is a criminal organization in
Showtime
's series
DEXTER
that appears in
Season Seven
as the Main antagonists.
Isaak Sirko was the ringleader of the mob, with its reach extending as far as the United States, prominently within Miami.
Background
The Koshka Brotherhood is based in Ukraine and specializes in human and heroin trafficking. Their main rivals are the Colombian drug cartels with whom they battle for control of the drug trade.
Crimes
Drug Trafficking - The Brotherhood buy and sell heroin. They completed a drug transaction at The Fox Hole with Detective Joey Quinn standing guard.
Human Trafficking - The Brotherhood buy and sell women and work them through their chain of strip clubs.
Bribery, Extortion. and Evidence Tampering - Isaak Sirko had George Novikov force Detective Joey Quinn through money and Nadia to steal the blood evidence implicating Isaak in the triple murder.
Money Laundering (suspected) - Miami Metro thought the strip clubs were used to launder money, but could never prove it.
Top Official
Mid-Level Boss
Local Enforcer
Bodyguard
Hitmen
Police Contact
Detective Joey Quinn - A formerly dirty cop that was coerced to again be on the Koshka's payroll
Miami Murders
Related Pages
Trivia
Кошка (Koshka) is the Russian word for cat, specifically, female cat. The correct spelling of the word "cat" in Ukrainian - "Кішка" (Kishka)..(Bratva, "Koshka" means "female cat").
They are the largest scale of Main Antagonists in the series.
They are the first organized crime syndicate to play a role in Dexter's storyline. (Before that, a drug cartel in Season One played a role in James Doakes' storyline).
Known Members