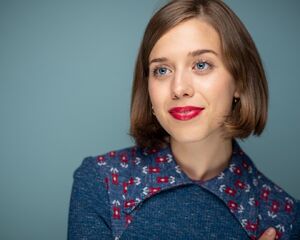 Kimmy Anne Dunn is an American actress.
In 2021-2022, she played Lily Kosnicki in the Showtime special event series Dexter: New Blood.
Appearances
Career
Film
Her film credits include roles in About Fate (post-production).
TV Movies
Her TV films include roles in My Condolences (2020).
Shorts
Her shorts include Hip Cat (post-production); From Our Coven (2018); Tavern (2018); and Off the Cuff (2017).
Personal Life
Kimmy is originally from Aiken, SC. She studied at The American Academy of Dramatic Arts NYC and graduated from the program in 2017. Following this, Kimmy completed her core Improv training at The Upright Citizens Brigade in 2019.