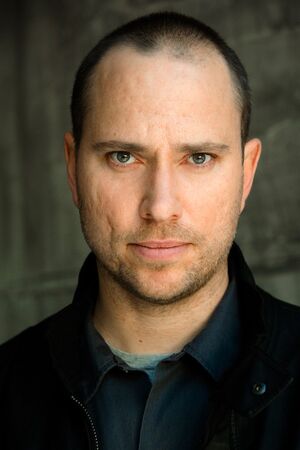 Karl Herlinger (born 9 March 1972) is an American actor and writer.
In 2012, he played Oleg Mickic, a hit man for the Koshka Brotherhood, on Showtime's series DEXTER.
Appearances
Career
Film
His film credits include roles in Billy Boy (2017); Guido (2011); The Local (2008); JailCity (2006); Pretend (2003); and Apocalypse Bop (1996).
TV Movies
His TV movies include Red Clover (2012).
Shorts
His shorts include A Comprehensive Guide to Avoiding Spontaneous Combustion (2018); Magic Bullet (2018); In Between (2011); Show Me (2011); The Magician (2010); Doppelganger (2010); Short on Time (2010); Nice Knowing You (2009); Narcissus Dreams (2009); The League (2008); and Peephole (1996).
Television
His TV credits include roles on Unbelievable; The Purge; Blood & Oil; Battle Creek; Newsreaders; Legit; Hawaii Five-0; Lie to Me; CSI: Crime Scene Investigation; The Whole Truth; Trauma (uncredited); Flashforward; Monk; Without a Trace; Dollhouse; Law & Order; and Hawaii Five-O (uncredited).
Personal Life
He was born in Kailua, Oahu, Hawaii. He has been married to Malia Musick since 3 March 2002. They have two children.
Trivia
He received the Carol Burnett Musical Theater Comedy Award.
He has made guest appearances on both Hawaii Five-O (1968) and Hawaii Five-O (2010).
Gallery