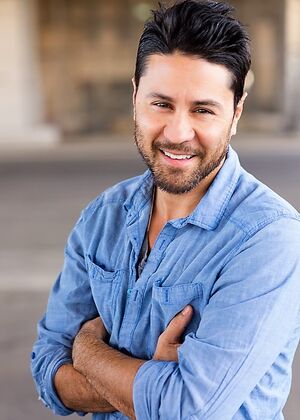 Justin Huen is an American actor, producer, and director.
In 2011, he played Diego, an ex-con, a mechanic, and faith leader in the Showtime series DEXTER.
Appearances
Career
Films
His movie credits include roles on Alma Mia (1999 Short); Ten 'til Noon (2006); In Search of a Midnight Kiss (2007); Reversion (2008); Angel of Death (2009); The Things We Carry (2009); The People I've Slept With (2010); S.E.R.E. (2010); The Garbage Collector (2010); American Flyer (2011); Maddoggin' (2012 Short); Love Sick Diaries (2012); Deadly Revenge (2013); Coffee. Or Something (2013); Someone I Used to Know (2013); Playing Clean (2013 Short); Better Half (2015); It Can Only Be Used Once (2015); Between the Lights (2015); Con/Vict (2016 Short); All I Want (2017); and Corrida (2017).
Television
His TV credits include appearances on Justified; NCIS: Los Angeles; Criminal Minds; Weeds; NYPD Blue; Wisdom of the Crowd; Law & Order L.A.; Chris/tina; Going Dental; Tombs of Egypt; and Lord of the Mafia.
Theatre
He has appeared extensively on stage.[1]
Personal Life
He was born and raised in Los Angeles, while his ethnic roots tie him back to China, Ireland, and Latin America. He attended Alhambra High School, where his main interest was playing football. He then juggled jobs as a carpenter, HV/AC field technician, and a designer of window displays for The Gap. After this, he returned to school, enrolling at Rio Hondo Junior College in Whittier, California, where he first began performing as an actor in theatre.
Trivia
He can speak with multiple accents, including Asian, Australian, British, Canadian, East Indian, French, German, Irish, Israeli, Italian, Jamaican, New England, New York, Puerto Rican, Russian, Scottish, Southern, Spanish, and West Indian.[2]
He currently works as a professional actor, award-winning set and lighting designer, and director in theatre, television, and film.
Gallery
References