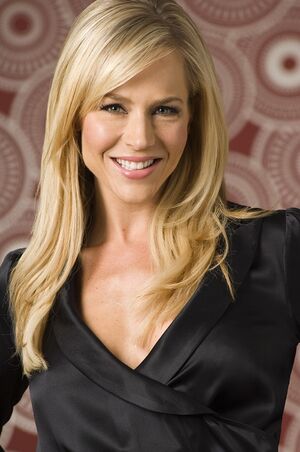 Julie Benz (born 1 May 1972) is an American actress and former figure skater.
She played Rita Morgan, the girlfriend and later wife of Dexter Morgan, on Showtime's DEXTER.
Appearances
"My Bad" (corpse and flashbacks)
In response to her character being killed off, Julie Benz said the following:
"I was shocked because I loved being a part of the show. I loved playing Rita. I loved working with the cast and the crew and the writers. So it was quite shocking but I got over the initial, 'Oh my God, I just lost my job.' You're able to see it from a storytelling standpoint. It was aggressive storytelling and it needed to be done in many ways."
Career
Benz competed in the 1988 U.S. Championships in junior ice dancing with her skating partner David Schilling, and finished in 13th place. When a stress fracture ended her skating career at age fourteen, she decided to try acting.
After graduating from high school, Julie entered New York University to study acting there. After graduation, Julie moved to Los Angeles to further pursue her career and landed some small roles in movies and TV shows. She is best known for her role as Darla in Buffy the Vampire Slayer and Angel. She has also starred on the series Roswell (1999–2000), Desperate Housewives (2010), No Ordinary Family (2010–2011), A Gifted Man (2011–2012), Defiance (2013–2015), and Hawaii Five-0 (2015–present).
Her film roles include Jawbreaker (1999), The Brothers (2001), Rambo, Saw V, and Punisher: War Zone (2008), The Boondock Saints II: All Saints Day (2009), and Bedrooms (2010).
Personal Life
Benz was born in Pittsburgh, Pennsylvania, and grew up in Murrysville. She married producer Rich Orosco in 2012.
Trivia
She dyed her natural blonde hair to brunette for the film Punisher: War Zone (2008).
She collects antique things from every country she visits.
Gallery
External links
Community content is available under
CC-BY-SA
unless otherwise noted.