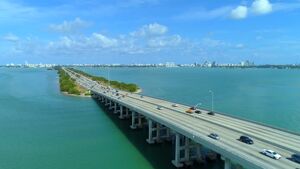 Julia Tuttle Causeway (nicknamed Tuttle Bridge) is a location in Season Five of Showtime's series DEXTER, as well as in real life.
Quote
"Poor Julia Tuttle, the mother of Miami. They named this bridge after her in her honor. Now it's crawling with pedophiles and sex offenders. So much for honor." ~Dexter
Summary
Dexter discovered that Lumen Pierce had targeted Robert Brunner, believing that he was one of her rapists. While at work, Dexter asked Francis for Brunner's police file. When she brought it to him, Francis mentioned that sex offenders were living under Tuttle Bridge because they couldn't live elsewhere.
Dexter realized that he had to get to Brunner before Lumen did. After dark, Dexter went to the encampment and prowled the area until he saw Brunner sitting alone, watching a small TV. Brunner let Dexter sit with him, and they engaged in an unsavory conversation about prison and sex. When Brunner began to brag about what he had done to one woman, Dexter injected him with M99. He took Brunner to a kill room (previously set up) and prepared for his Kill Ritual. However, Dexter discovered that Brunner was wearing a tracking bracelet on his ankle, which proved that he couldn't have abused Lumen. He spared Brunner's life, although angry about the situation.
Looking for Lumen, Dexter went to the motel where she was staying. The manager, who thought that Lumen was Dexter's wife, told him that she was asking about Tuttle Bridge. The manager had warned Lumen that it was the last place she wanted to be.
Lumen, dressed in a hoodie and carrying a gun, walked around under Tuttle Bridge, searching for Brunner. She spotted him, and was about to shoot him, when Dexter grabbed her arm and stopped her. Lumen was furious until Dexter told her that she almost killed the wrong man. Lumen finally agreed that it was best for her to leave Miami.
Related Pages
Tuttle Trivia
Julia Tuttle Causeway spans Biscayne Bay, linking Miami with Miami Beach. It is 4.4 miles (7.1 km) long.
An actual colony of registered sex offenders lived beneath the Julia Tuttle Causeway from 2005 to 2010. Strict ordinances prevented them from living almost anywhere else. The ordinances were later modified and the sex offenders found other places to live. [1]
Julia DeForest Tuttle (1849 –1898) was an American businesswoman who was the original owner of most of the land upon which Miami, Florida, was built. For this reason, she is called the "Mother of Miami." She is the only woman to found a major American city.
Gallery
References
Community content is available under
CC-BY-SA
unless otherwise noted.