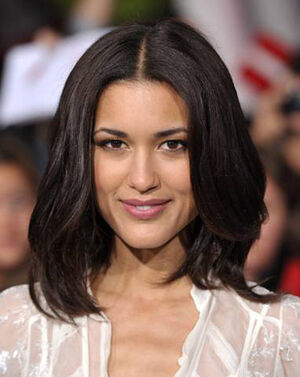 Julia Jones (born 23 January 1981) is an American actress.
In 2021 - 2022, she plays Angela Bishop in the Showtime special event series Dexter: New Blood.
Appearances
Career
Films
Her film credits include roles in The Look (2003); Black Cloud (2004); Hell Ride (2008); Three Priests (2008); Jonah Hex (2010); The Twilight Saga: Eclipse (2010); The Twilight Saga: Breaking Dawn - Part 1 (2011); California Indian (2011); Missed Connections (2012); The Twilight Saga: Breaking Dawn - Part 2 (2012); Winter in the Blood (2013); The Ridiculous 6 (2015); Wind River (2017); Teo of Surfing (2018); Angelique's Isle (2018); Cold Pursuit (2019); and Think Like a Dog (2020).
TV Movies
Her TV movies include The Thanksgiving House (2013) and High School Lover (2017).
Shorts
Her shorts include The Reckoning (2007) and Rich Girl Problems (2012).
Television
Her TV credits include roles on ER; In Plain Sight; Longmire; Westworld; Goliath; The Mandalorian, and Dexter (2021).
Other
Jones has modeled in catalogues for Levi Strauss & Co., Gap Inc., Esprit Holdings, and L'Oréal.
She appeared in Chuck Wicks's music video for "Hold That Thought."
Personal Life
Jones was born in Boston, Massachusetts to Frank Jones and Penny Wells. She has a younger brother named Cody. Her mother is of English descent, and her father is of African American, Choctaw, and Chickasaw descent. She was raised in the Jamaica Plain neighborhood of Boston. Jones studied at the Boston Ballet School from the age of four. She began working in commercials and local theatre when she was eight. In 1999, Jones graduated from Boston Latin School, the oldest public school in the United States. She subsequently attended Columbia University where she earned a degree in English.[1]
References