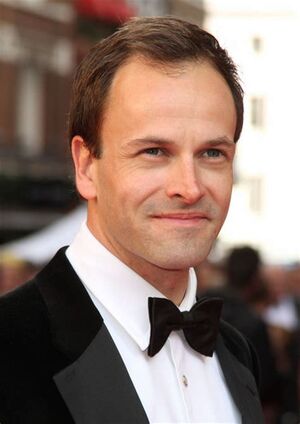 Jonathan Lee Miller (born 15 November 1972) is an English-American film, television, and theatre actor.
He played Jordan Chase, a motivational speaker and the leader of the Barrel Girl Gang, in the Showtime series DEXTER.
Appearances
Career
Miller made his television debut with an uncredited appearance in Doctor Who at the age of nine in 1982. The following year he appeared in Jemima Shore and Mansfield Park. Throughout the 1990s, he appeared in various shows, including Keeping Up Appearances, Inspector Morse, Minder, Second Thoughts, Between the Lines, Casualty, Prime Suspect 3, and EastEnders Later roles on TV include appearances on The Canterbury Tales, Byron, Smith, Eli Stone, and Emma. He currently stars as Sherlock on Elementary.
He first film role was in Hackers (1995) with Angelina Jolie, whom he later married. Additional film appearances include roles in Trainspotting, T2 Trainspotting, Regeneration, Complicity, Love Honour and Obey, Dracula 2000, The Flying Scotsman, Afterglow, The Escapist, Mindhunters, Endgame, Dark Shadows, Byzantium, Dead Man's Walk, Plunkett & Macleane, and Melinda and Melinda.
Miller's appearances in theatre include roles in Four Nights in Knaresborough, Frankenstein, After Miss Julie, Festen, Beautiful Thing, and Someone Who'll Watch Over Me,
Personal Life
Miller was born in Kingston, England, U.K. and was raised in the south west of London. He attended Tiffin School as a child and appeared in several school plays such as The Ragged Child. He left school at the age of seventeen after taking his GCSEs to pursue a career in acting.
Trivia
He became a United States citizen in 2014.
He runs a half-marathon twice per week. He completed the 2008 London Marathon at 3:01:40, averaging under seven minutes per mile. He's also completed an ultra marathon, running 50 miles through Bear Mountain, New York for the charity Jonah's Just Begun, it raises funds for Sanfilippo Syndrome.
He trains in both Muay Thai and Brazilian Jiu-Jitsu.
He is a big fan of the N.Y. Rangers and the Chelsea FC (England football club).
His ex-wife, Angelina Jolie, and his current wife, Michele Hicks, have the same birthday: June 4.
Gallery