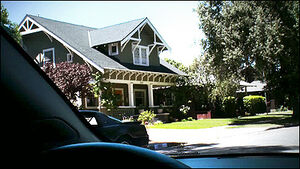 Jonah Mitchell's House is a location in Season Six of Showtime's series DEXTER.
It's a residential, two-story wood frame house where Sally, Rebecca, and Jonah Mitchell lived after Arthur Mitchell "disappeared."
Location
1965 Walnut Street
Kearney, Nebraska
Summary
Debra Morgan informs Dexter that Arthur Mitchell's wife and daughter have been murdered in their home in Kearney Nebraska. Jonah, Arthur's son, told police that he saw his father, The Trinity Killer, kill them. Dexter knows that isn't true, though, because he personally killed Arthur Mitchell over a year ago. He suspects that Jonah killed his mother and sister himself.
Dexter takes time off from work and drives out to Nebraska to possibly kill Jonah. After confronting Jonah at the hardware store where he works and being lied to, Dexter goes to Jonah's house to look for proof that Jonah killed his family. He easily gains entrance through an unlocked door.
As Dexter looks around, he notices that the blood was cleaned up with bleach, and he mixes a spray to detect it on the walls. He is interrupted when Jonah returns home, and catches him in the act. Dexter challenges him with the fact that Trinity didn't kill anyone. Jonah asks Dexter if the reason he knows this is because he killed Trinity. Dexter says yes, and he accuses Jonah of killing his mother and sister. Jonah bolts for the door and drives off in his car. Dexter begins to go after him but he is spotted by a neighbor, and doesn't give chase.
Later, Dexter meets with Jonah in the hardware store, having decided to kill him. When Jonah reveals the truth - that his sister committed suicide due to his mother's abuse and he killed his mother out of rage, Dexter lets Jonah live and returns to Miami.
Related Pages
Gallery
Community content is available under
CC-BY-SA
unless otherwise noted.