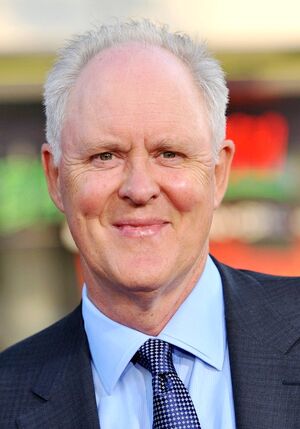 John Arthur Lithgow (born 19 October 1945) is an American actor, musician, poet, author, and singer.
In 2009, he played Arthur Mitchell, aka The Trinity Killer, in the Showtime series DEXTER.
Appearances
Career
Lithgow is best known for his television roles as Dick Solomon in the sitcom 3rd Rock from the Sun (1996–2001), Arthur Mitchell in the drama Dexter (2009), and Sir Winston Churchill in the drama The Crown (2016), for all of which he won Emmy Awards. He is also well known for his film roles in Blow Out (1981), Twilight Zone: The Movie (1983), Footloose (1984), Santa Claus: The Movie (1985), Harry and the Hendersons (1987), Raising Cain (1992), Shrek (2001), Rise of the Planet of the Apes (2011), Interstellar (2014), and Daddy's Home 2 (2017). His performances in the films The World According to Garp (1982) and Terms of Endearment (1983) each earned him Academy Award nominations for Best Supporting Actor.
On the stage, he has appeared in Broadway productions including the musical adaptations of Sweet Smell of Success and Dirty Rotten Scoundrels. In 2007, he made his Royal Shakespeare Company debut as Malvolio in Neil Bartlett's production of Twelfth Night. He has also recorded music, such as the 1999 children's music album Singin' in the Bathtub, and has written poetry and short stories for children, such as Marsupial Sue. His work in children's entertainment has earned him Grammy Award nominations and two Parents' Choice Silver Honor Awards.
Awards
He has received two Tony Awards, six Emmy Awards, two Golden Globe Awards, three Screen Actors Guild Awards, an American Comedy Award, four Drama Desk Awards, and has been nominated for two Academy Awards and four Grammy Awards. Lithgow has received a star on the Hollywood Walk of Fame and has been inducted into the American Theater Hall of Fame.
Personal Life
Lithgow was born in Rochester, New York. He attended Harvard College, and graduated with an A.B. magna cum laude in 1967, in history and literature. He married Jean Taynton, a teacher, in 1966. The couple had one son together. Their marriage ended in divorce in 1980. Lithgow married UCLA history professor Mary Yeager in 1981, and they had a son and daughter together.
Gallery